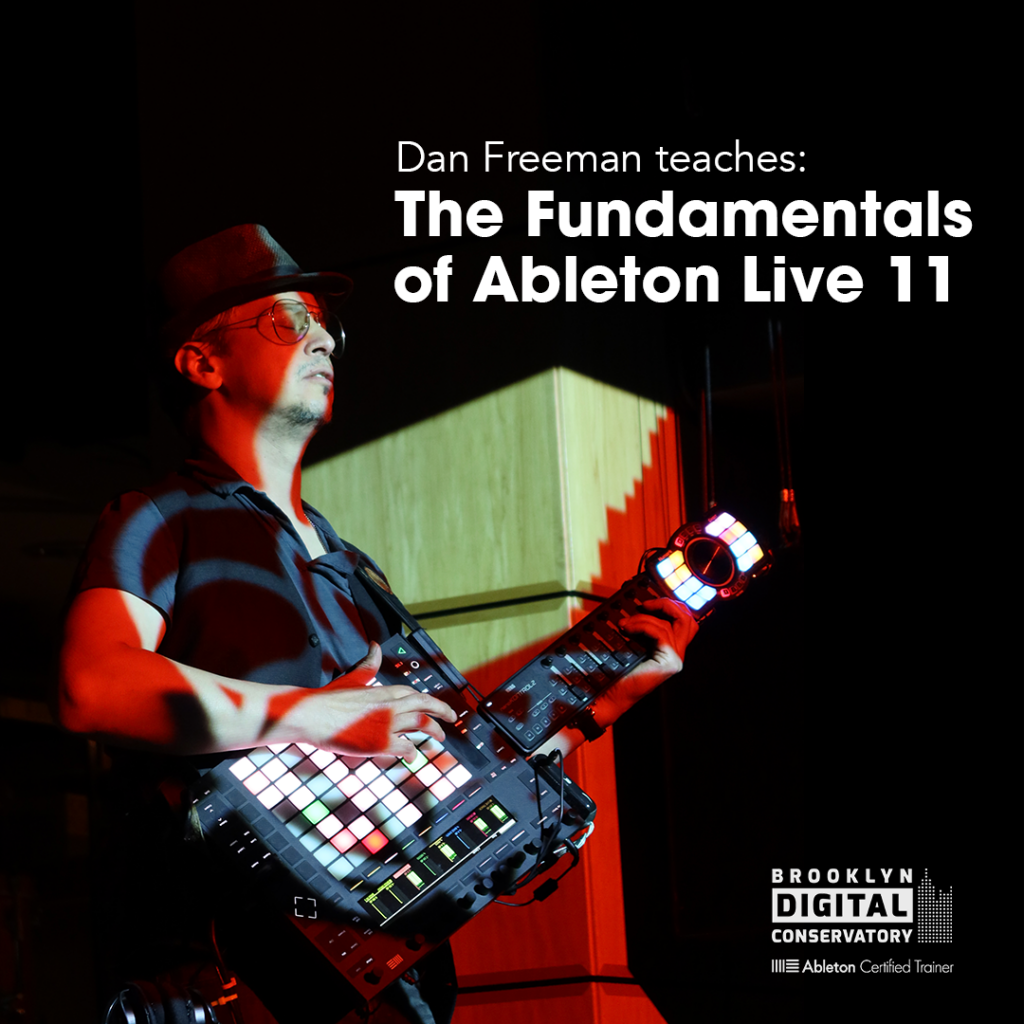 The Fundamentals of Ableton Live 11: A Certified Training course with Ableton Certified Trainer and Berklee College of Music and Juilliard professor Dan Freeman.
Artist/Producer, Music Technologist and Brooklyn Digital Conservatory founder Dan Freeman will be teaching an 8 session, 24 hour course on the Fundamentals of Ableton Live in his Williamsburg studio.  The course will be limited to only four students.  In this course we will cover the following:  
The Basics of the Ableton Interface and Basic Workflow
Ableton's Drum Rack and Beat Building in Ableton Live
An Introduction To Ableton's Analog and New Drift Instruments and the Basics of Analog Synthesis
An Introduction To Ableton's Operator Instrument and the Basics of FM Synthesis
An Introduction To Ableton's Sampler and Simpler Instruments and The Basics of Sample-Based Synthesis
An Introduction to Ableton's Wavetable Instrument
Recording Audio – Vocals and Instruments
An Introduction To Ableton's Audio and MIDI Effects
Finishing A Track In Ableton Live
The Basics of Setting Up A Live Performance In Ableton Live
Using Ableton Live As A Visual Platform
The goal of the course will be for students to complete a track in Ableton Live. It is based on the courses that Dan designed for NYU's Clive Davis Institute and The Juilliard School.  For more info, go here.
Dan Freeman is an artist, producer, music technologist based in Williamsburg, Brooklyn who has been an Ableton Certified Trainer for twelve years. He has toured extensively as an artist and presenter throughout Europe and Latin America including at Sonar (Barcelona), SXSW (Austin), Berghain (Berlin) and Harvard University (Cambridge, MA). He is an Assistant Professor in Berklee College of Music's Electronic Production and Design department as well as on the faculty of the Juilliard School and New York University's Clive Davis Institute of Recorded Music. In 2015 he founded the Brooklyn Digital Conservatory primarily to bring electronic music producers from NYC to Latin America and since its founding, it has run courses in NYC, Costa Rica, Nicaragua, Colombia, Chile, Panama, Guatemala and Mexico.