Description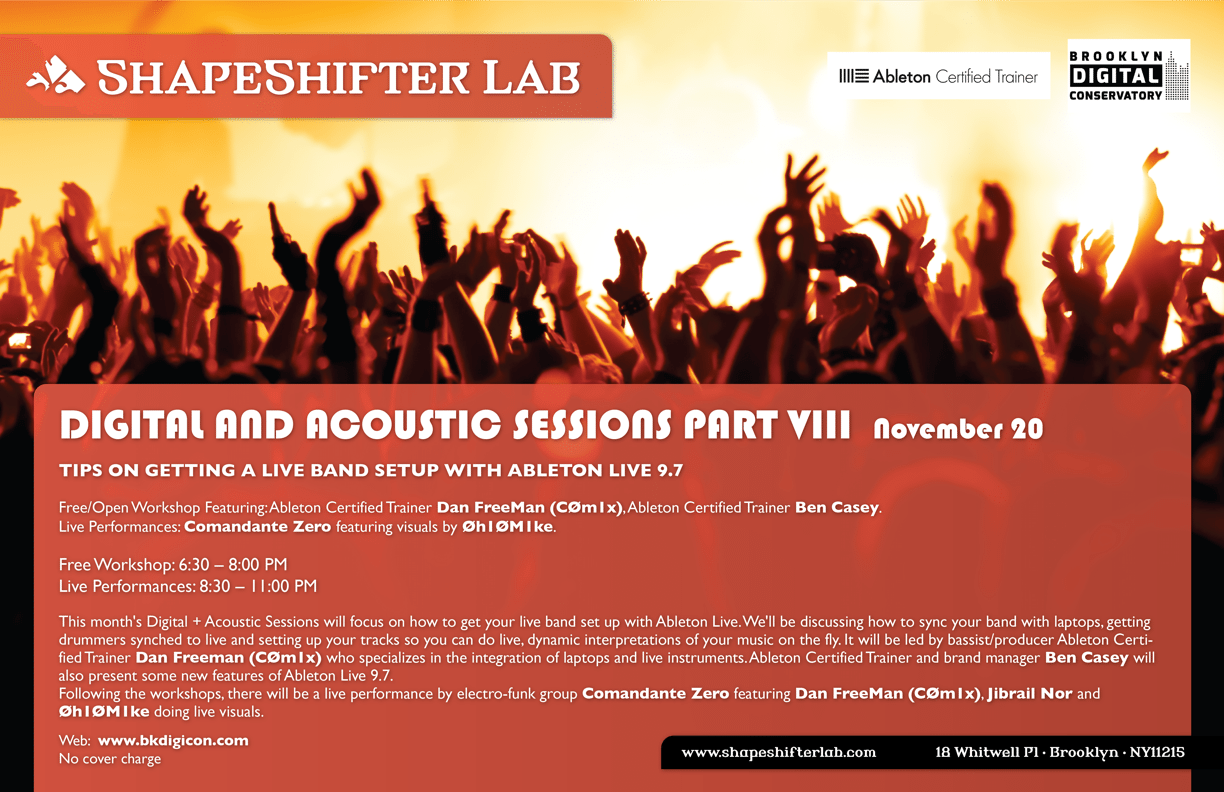 ShapeShifter Lab and the Brooklyn Digital Conservatory Present: Digital + Acoustic Sessions
Curated By Dan FreeMan (CØm1x) with Special Guests: Ben Casey
Free Workshop: 6:30 – 8:00 PM
Live Performances: 8:30 – 11:00 PM – Featuring Comandante Zero with Dan FreeMan (CØm1x). Visuals by Øh1ØM1ke.
The Digital + Acoustic Sessions are a series of free workshops and performances at Brooklyn's ShapeShifter Lab that focus on cutting-edge ways to integrate acoustic instruments and Ableton Live – both as a musical and visual platform.  Each session will feature a free workshop followed by live performances by musical and digital visual artists integrating live and digital performance.
This month's Digital + Acoustic Sessions will focus on how you can get your live band set up with Ableton Live.  We'll be discussing how to sync your band with laptop, getting drummers synched to Ableton Live and setting up your tracks so you can do live, dynamic interpretations of your music on the fly. It will be led by bassist/producer Ableton Certified Trainer Dan Freeman (CØm1x) who specializes in the integration of laptops and live instruments.  Ableton Certified Trainer and brand manager Ben Casey will also present some new features of Ableton Live 9.7.  More info can be found here.

Following the workshops, there will live performances by the electro-funk group Comandante Zero featuring Dan FreeMan (CØm1x), Jibrail Nor and Øh1ØM1ke doing visuals.